So teach us to number our days,
That we may present to You a heart of wisdom.
Psalm 90:12
I have written more than once about times when I felt something terrible could have happened to at least one of my children and, providentially, everything turned out just fine. There are certain days that cause me to be aware that, for all my planning, preparing, and protecting, the days of my children are numbered by the Lord, and not by me. Thankfully, He chooses to protect them.
Yesterday, I saw the children playing around with our barbeque. I know that my son loves to pretend he is doing Daddy's work and cooking hot dogs and hamburgers for a crowd. I had already forbidden water play for the day, so I decided that I would give them some freedom with other things.
I looked out the window a few times, and I do remember wondering what in the world could possibly be so exciting about the thing. They kept lifting the top, touching the inside, and squealing. E. always manages to stay clean, regardless of the circumstance. I believe this is because he does not like the inconvenience of having to perform an extensive washing ceremony before being allowed entrance back into the house. A., on the other hand, seems to get dirty even if she is only out for five minutes.
Needless to say, she was covered in ash. It was all over her hands and face. When she came in, E. began to report on what they had been doing, but I told him that first I had to wash up A. He seemed flustered, but he waited patiently. When I came back into the kitchen, he announced that they had been playing with a "big black spider with big red eyes."
My heart sunk.
"You what?"
"We found a spider in the barbeque. It was big and black except for its huge red eyes."
I looked at my little girl, knowing her love for touching bugs of all kids, remembering her dirty fingers and face. Had she touched it? If this spider was what I thought it was, it was not aggressive, but it would definitely bite little fingers when they poked and prodded.
I told the children to stay in the house and went to confirm my suspicions. I lifted the lid of the barbeque. It was so dark in there, that at first I could only see her movement, but not really her body. E. came out to join me. "Do you see it? Do you see the big red eyes?"
And suddenly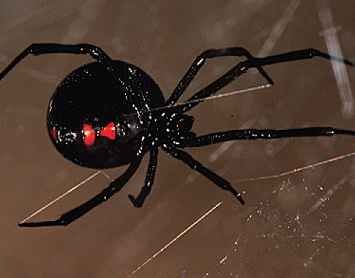 I did see her. She was a full-grown female, hanging upside down, which is their manner. I felt sick when I saw the big red hourglass staring back at me.
I went back inside and checked the little fingers. For all of their attempts, it seems they did not make contact. It probably helped that I had trained E. to know that red on an insect or amphibian can often serve as a warning that it is poisonous to humans. He had been enjoying their exploration, but all the while trying to keep his foolish sister from touching the beast.
She should have been bitten. I saw how they were playing. It should have happened.
But it didn't happen.
For whatever reason, God spared her. It was not time for her to be hurt, it was time for her to be protected. I thank God for this. I thank Him for his defense of my children in times when I do not even understand they need it.
✕
Get the (almost) weekly digest!
Weekly encouragement, direct to your inbox, (almost) every Saturday.