[dropcap]T[/dropcap]his week at our reading group, we discussed Circle Time. We all shared what we were doing and gave each other ideas and encouragement. It was great fun. In the midst of this, when I shared, I felt my own eyes glaze over, and I wondered if any of you ever feel that way when I post my plans?
So today, I thought I'd talk about how to plan Circle Time. By this, I mean some basic principles you can follow.
(A Circle Time, if you are just now joining us, is a regular time when all of the family is learning together.)
---
Grab your worksheet!
Want help going through this process? My 2-page printable worksheet walks you methodically through the steps listed here.
---
Step 1: What Are Your Goals?
You have to ask yourself this question before you plan. We can't plan, at least not well, if we don't know what we're trying to accomplish.
I have a number of goals for my Circle Time:
Have a special time with all of my students together in one place
Make sure my children have some learning that they hold in common
Accomplish the things I think should be done together (such as Bible reading and singing)
Save time in individual lessons by combining some things during CT
And so on. Your Circle Time will look different depending upon your goals.
Step 2: List Your Daily Items
This is the easiest part to plan. For me, my daily items are:
Prayer
Bible
Memory work (which includes our singing time)
Yep. That's it. All the other things on my list are not daily.
Step 3: Add Your Rotating Items
By "rotating items" I mean the things that you want to happen, but not all the time. For example, I alternate spelling and grammar. Since our Circle Time is only four days per week, this means that two days are spent on each of them. Other items happen only once per week, such as Shakespeare, geography, and so on.
My rotating items aren't going to look like your rotating items, and that is okay.
But let me give you a big, huge hint, if you are trying to make this pay dividends when it comes to time: Go through your curriculum and decide what can be done together and add this to Circle Time. The more children you have, the more this is going to help you.
The reality for me right now is that I have three students to whom I will need to read aloud next year, and so I'm pondering what I can combine so that I'm not spending so much time on individual lessons. I love reading aloud, but the truth is that it takes more time than independent silent reading. I'm sure you understand.
So, for example, I might pull a subject — I'm thinking specifically of our science reading. Instead of doing Burgess with one student, a different Burgess selection with a second student, and Long with a third, I might just pick one book and read it to all three of them at Circle Time.
Make sense?
So, yes, AmblesideOnline assigns weekly studies that are best combined — such as picture study, composer study, and so on — but that isn't only what I'm talking about. If you are trying to juggle a lot of students, look for things that can be combined. Science in the early years, in my opinion, an obvious choice because you aren't messing with the history chronology if you pull a book for group study.
Step 4: Consider Your Students
You need to do this before you schedule your items. For example, do you have a little one that you are going to lose halfway through Circle Time? Make sure you put your most important items at the beginning.
Plan your list in order of who you're likely to lose first. Let's say you have a preschooler that you'll lose almost right away — start with the Most Important Things (prayer and Bible) and then let them play quietly in the floor if they need to. After that, do the next most important thing, and so on. This isn't the only thing to consider when planning the order (a need for variety should also come into play), but don't hope that a two-year-old is going to sit through the reading of an astronomy textbook before you get to Bible time!
Another thing to consider is how long a Circle Time your children can handle. If they are very young, you may want to stick to Bible and singing and save everything else for when they are older. We did not even start this until my oldest was seven. Before that, he and I did lessons together while the others were all asleep.
Step 5: Schedule
Now, you can put things into some sort of a schedule. Maybe you want to do picture study on Monday. Composer study might work well on Thursday. Spread everything out, while also deciding if there are some things you want to hit less than daily, but more than once per week (like I do with grammar and spelling).
Ask yourself: what is the most enjoyable way I can do this? Consider the pleasure aspect, and you will all like Circle Time more than ever!
Step 6: Tacking at the End
Do you have some individual subjects that you tend to lose throughout the week? For us, it was Shakespeare. There was no place that we put it that we were ever consistent. It isn't that we don't love Shakespeare — we do! — but that was the way it always worked out.
So now, Shakespeare is a Circle Time subject, but that name is something of a formality. Remember Step 4? When we considered which children we were going to lose, and when? This is sort of the same thing. At the end, my oldest is literally the Last Man Standing. So Shakespeare tacked onto the end of Circle Time means that Shakespeare actually gets done every week.
The younger children are free to stay and listen if they like, but it is not required of them, and most of the time they choose to run off and start on chores instead.
Don't be afraid to add something for one student at the end of Circle Time. You might find that your other children are interested, but, if not, at the very least the subject might stop falling through the cracks!
Feeling overwhelmed? Pressed for time? Or simply don't want to plan Circle Time yourself?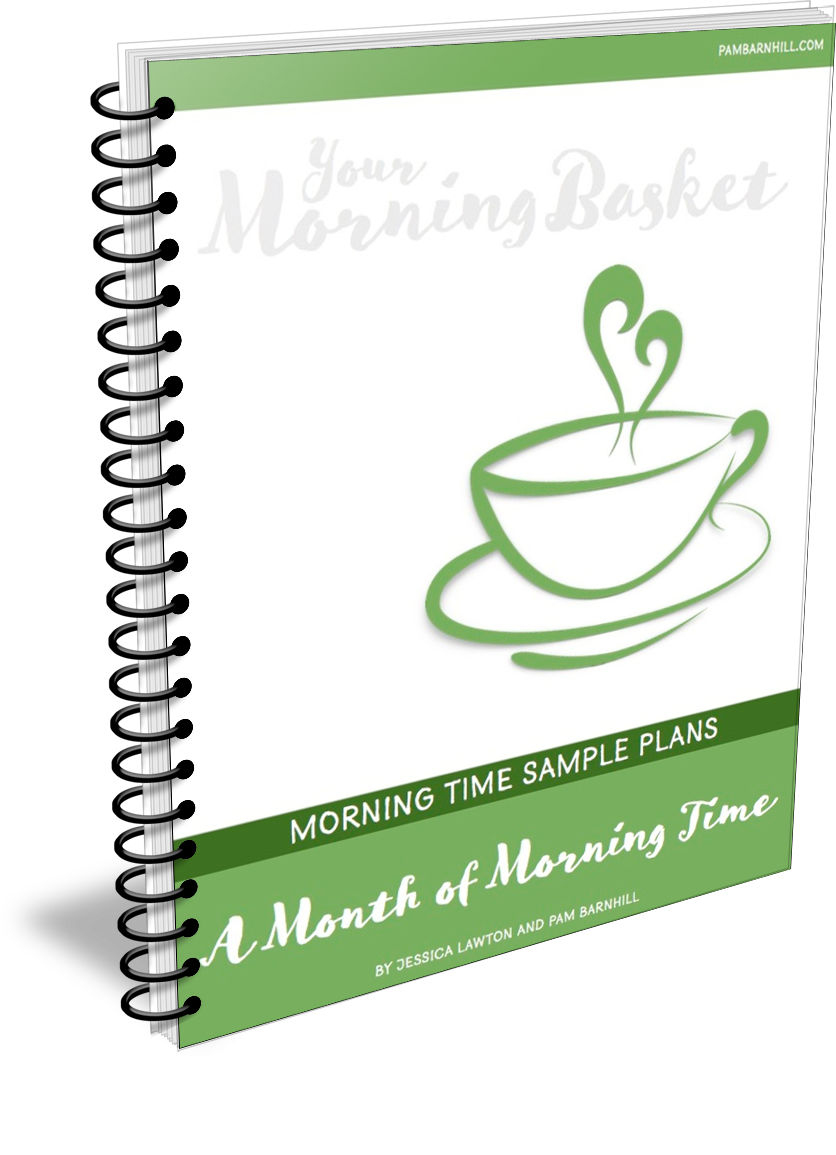 I am pleased to announce that my friend Pam has created pre-made plans that are wonderful. Click here to get your free first month and see if her plans are a good fit for your family. ♥
✕
Get the (almost) weekly digest!
Weekly encouragement, direct to your inbox, (almost) every Saturday.