Are You Ready for BOOT CAMP??
Woot woot! Registration is now open for the Spring 2021 session of Charlotte Mason Boot Camp!
If you're already ready to register, click here to purchase your spot!
If you want more details, keep reading!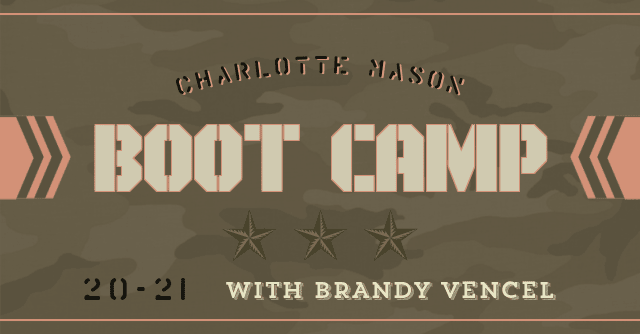 Perhaps the most important change compared to previous sessions is that we have left Facebook.
Many of you have been requesting this for a long time; I was just trying to figure out how to do it in a way that didn't push the price up too much. We have now moved to a Mighty Network — this means there is an app OR you can just access it through a web browser. Saturday morning Live Q&A Sessions will be hosted on Crowdcast. Between these two platforms, we've been able to recreate the same wonderful experience in a way that better protects you from privacy invasions and distractions.
So let's talk about Camp. Wanna learn to think like Charlotte Mason?
Charlotte Mason Boot Camp is six days per week for six weeks. The first week is somewhat mild, but after that it'll be pretty intense — requiring a fair amount of determination on your part.
The most important thing you will be asked to do is think. (Ha! It's harder than it sounds.)
Registration for Charlotte Mason Boot Camp closes Saturday, February 20, 2021 at midnight, so don't procrastinate!
In order to participate you will need:
Decent internet

Able to sign into and scroll through Mighty Networks
Able to download workbooks
Able to watch short videos
Able to stream longer live video Q&A sessions

Adobe or some other PDF viewer
A printer
Basic school supplies (pens, pencils, etc.)
Time each day to work on the assignments (averaging about 30-45 minutes)
The dates for Charlotte Mason Boot Camp (CMBC) are February 22-April 9, 2021. Make sure you sign in right away, though, because we have all sorts of introductory stuff going on right now.
The goal for Charlotte Mason Boot Camp is confidence.
You're not going to know everything. Nobody does, of course, but even if they did, it took them longer than six weeks! However, big progress can be made concerning the basics if you work diligently for a six-week interval.
CMBC is designed to bring Charlotte Mason's principles down to the earth in your very own home. Many of the assignments will take principles that seem only theoretical and ask you to think deeply about applying them to your family — your ways of mothering and teaching.
I want you to end feeling like you are capable of applying Charlotte Mason's philosophy in your home. Charlotte Mason said that once we grasped her principles, ways of applying them would suggest themselves everywhere we looked. This can be you and me!
Sometimes, we need to bounce ideas off of others, and that is why you need to sign into the CMBC network regularly (preferably daily). We run the whole thing through a private CMBC Mighty Network so that you can support (and be supported by) your fellow campers and discuss your assignments.
Charlotte Mason Boot Camp is divided topically into weeks.
Introductions. We talk about who Miss Mason was, why we know who she is, the appropriate mindset for being a CM homeschooler, and some other preliminaries
What is a child? We spend a week delving deeply into this.
What is education? We look at Charlotte Mason's answer to this question from many angles.
What are our tools? Here's where we talk about motivation and actually getting the work done.
What are our curricula and practices?
We end with a flurry of dotting i's and crossing t's and making plans for the future.
Daily assignments — videos to watch, articles to read, worksheets to guide you through a thinking process — are delivered in weekly guidebooks Monday mornings via the Charlotte Mason Boot Camp Mighty Network (when you register, you'll receive information on how to log in to the Camp network). Discussion questions are posted inside the network each afternoon. Live Q&A sessions are hosted on Crowdcast and typically scheduled for Saturday mornings at 8am Pacific time (I only change the schedule if it's unavoidable). Links to attend the Live Q&A sessions will be available inside the network in advance. Replays are available on Crowdcast immediately after the sessions are completed.

Like anything else, you'll get more out of it if you put more of yourself into it.
How do I join??
I'm glad you asked!
✕
Get the (almost) weekly digest!
Weekly encouragement, direct to your inbox, (almost) every Saturday.